Chemical Storage Buildings by ESD Waste2Water, Inc. are specifically designed for storing chemicals used in the turf care industry.
The buildings are expressly intended for golf course maintenance, park maintenance, and grounds maintenance operations.
Constructed of marine-grade aluminum, the buildings will not rust, and do not require routine painting.
Each storage unit has the capacity of storing and containing hundreds of gallons of chemical, and is designed to allow for easy clean up, and to reduce the probability of cross-contamination of spilled chemicals.
ESD offers the chemical storage units in a variety of sizes, and is able to customize buildings to fit your unique requirements.
Portable by design, the buildings can be easily relocated for site flexibility. Coupled with other ESD products and designs, you can use ESD chemical buildings to develop an ideal chemical mix/load/storage area for your turf care maintenance facility.
W/ Heat or Air Conditioning
---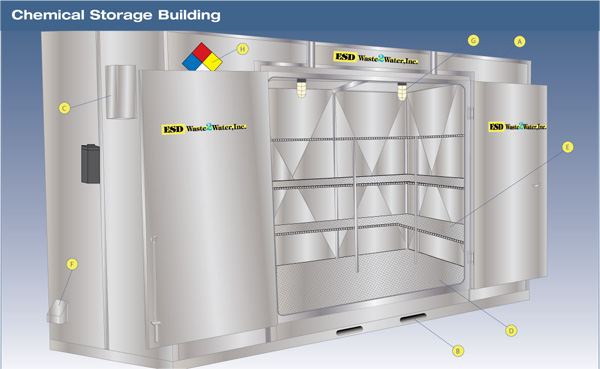 A- Marine Grade Aluminum Construction
The ESD Chemical Storage Buildings are constructed of 5052 marine grade aluminum for maximum chemical resistance and absolute minimum maintenance.
B- Easy Placement
The Buildings can be placed on virtually any flat and level surface whether it is cement, asphalt, crushed rock or dirt .Forklift holes are located in two sides of the buildings for easy placement.
C- Easy Installation
Once placed, a simple electrical connection to the building's junction box renders the building completely operational and ready to use. Relocating the building to an alternative site can be done easily with a forklift and a screwdriver.
D- Containment Area
The diamond plate floor of the building is double welded for secure containment of potential spills. For ease of clean up, and recapturing spilled chemicals, the floor does not have grating that needs to be removed before cleaning.
E- Shelving
The building includes 24″ deep, 3-tier, diamond plate aluminum shelving around the available inside perimeter. Shelf space is maximized in each building and shelves are extremely sturdy and non-porous.
F- Exhaust Fan
All buildings are equipped with a 24/7 150 cfm exhaust fan to evacuate chemical fumes from inside the chemical storage area.
G- Lighting
The buildings include incandescent lighting with smash guards and moisture proof wiring. H- Hazardous Material Placard
Each building is shipped with a NFPA 704M, hazardous material placard. The placard can be correctly labeled for the hazard level of the specific chemicals that are being stored in the building