ESD Waste2Water, Inc continues to develop and improve the ultimate solutions for Above Ground Wash Pads. The new Containment Island Above Ground Wash Pad System can be configured to meet your wash rack system requirements. The durable copolymer material coupled with optional Marine Grade Aluminum Walls ensure corrosion and product longevity. The Containment Island comes in a High or Low Profile wash water treatment systems and can be tailored to meet your specific project needs.
The above ground wash pad is easily installed at any project site. All that is required is a level stabilized surface. If an impervious surface already exists, then the Containment Island can be placed on top of that surface and installed in minutes. In addition to the Containment Island, the ESD SMS (Solids Management System) or any of the ESD Waste2Water Biological Systems, a site can be transformed into a closed-loop wash pad with recycle system to make your site environmentally friendly. The Portable Containment Island is ideal for:
Golf Course Maintenance Facilities
Golf Cart Washing
Heavy Equipment Wash
Rental Yards
Car Wash Detail
Mobile Decontamination
Forklift Washing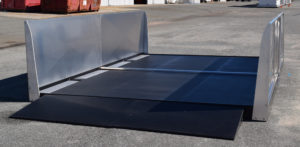 All of our wash water treatment systems meet EPA regulations and have been developed to save you time, money and offer peace of mind. Contact ESD Waste2Water, Inc today and have one of our qualified staff offer a no obligation on site consultation.