Wash Water : ESD offers wash water treatment systems, wash water recycling and a wide variety of options and system designs for light, medium and heavy duty wash water treatment applications.
Remediation : ESD Waste2Water offers a full line of environmental remediation equipment systems that are fully integrated, pre-piped, pre-wired and factory tested.
---
Featuring our Solids Management System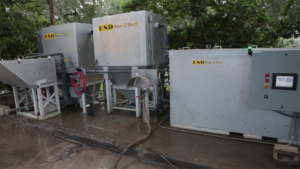 We have created the ultimate in wash rack solids handling. The new ESD Waste2Water, Inc. Solids Management System, or SMS, eliminates traditional, often large, Drive-in Pits or Multiple in ground sump pit systems. Our new Solids Management System has the capability of processing 80 gallons per minute to a pressure washer, while removing heavy solids in a quality closed loop and recycled wash water system. It alleviates the time consuming handling of sludge and solids out of in-ground pits, while producing a quality of recycled wash water never seen before.
Read more about this revolutionary product offering – Solids Management System.